This is the history of my experience trying to make money online over the past 10 years or so. This is by far the longest post I've ever personally written and it's more of an autobiography than a blog post. I feel like I need to purge some of this stuff from my head so I can stop focusing on the past so much and move forward. I don't really expect anyone to care to read all of this but I feel like writing so here it is.
The Very Beginning
I'm 29 now and technically that puts me into the Millennial Generation. I think we're probably the last generation to grow up without having access to computers and the internet from birth. That being said I did have the opportunity to play with IBM blue screen computers in elementary school, and even get in trouble for figuring out how to use an entire printer ribbon to print a banner for my father's business.
Fast forward a few years. I'm probably 12. My dad decides this $2000 Bose surround sound system he bought is just too much for our house. He tells my mom to take it back and get the kids some type of computer. I end up with this pretty sweet Pentium 2 Acer gaming PC with Windows 95. AOL was the way you connected to the internet at the time so the old man hooked me up.
Having a computer and internet connection opened up a world of curiosity for me. I was always trying things to see if they worked. I learn MS Paint and made myself an album cover for my totally white suburban 12 year old gangster rap songs I figured out how record (I was hot before the Icy Hot Stuntaz). I then moved on to learning HTML and eventually moving on to things like Visual Basic (I think it was VB6 at the time).
In High School I would often sleep through my classes to avoid the anxiety social interactions caused me. I still got good grades but never challenged myself with the exception of my computer classes. I was always very interested in them and loved learning every little thing I could.
One of my friends in high school, Todd Morrison, had the most epic blogs ever. Full of many things I'm sure he hopes the internet forgets. This was before WordPress even existed. I think he used Coronto and eventually Moveabletype. He probably inspired me to get into blogging later on without even knowing it.
My First Attempt at Making Money Online
Fast forward a few years. I'm out of high school. I don't take the summer off but I start working full time and going to school. I've always had some type of entrepreneur trapped inside me. I think it start with me selling counterfeit CD's in middle school. My dad started one of the first Mobile Oil Change businesses I've heard of. This was even before Jiffy Lubes started popping up, so maybe some if it gets passed down from him.
I see that blogging is becoming very popular. I also see that advertising is taking over the web as a monetization method. This is post .com bubble bursting but you still hear stories of massive amounts of advertising income that websites are making. Even your average Joe was apparently making a killing of Google's AdSense program. I'm not going to lie the image below is probably responsible for me even knowing about AdSense. I'm sure if you've ever looked into earning income online you've seen this picture: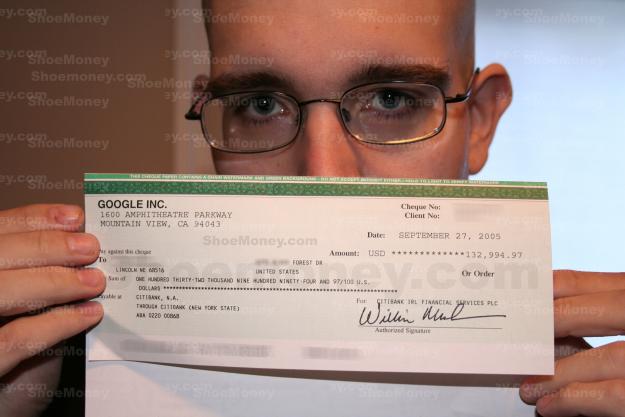 So I decide I'll start a blog and make money via AdSense ads. In October of 2006 I register TeamTutorials.com and start blogging about something interesting to me, computers. I really just generally wanted to help people and trying to answer questions. Figuring out how to do things gave me a chance to learn myself and pass that knowledge on. Things started off slow but I kept writing mostly because I loved learning.
Eventually I started seeing small amounts of AdSense income. It was never much but I thought if I could get enough traffic it might work out. I started looking at where I can get traffic for a site like this and found that there were a ton of tutorial directory sites that would link out to tutorials. I submitted everything I could. This was my first foray into SEO without even realizing it.
Over the next six years I continued to blog and build traffic. I build the site up to about 80,000 – 100,000 page views per month.

At about 100k page views I was making a little bit over the minimum payout amount of $100 for AdSense. AdSense tells me the lifetimes earnings are almost $7,000 for the site. I don't consider that a success but it was enough to cover the expenses of a dedicated server so that I can play around with other ideas.
Tutorial directories seemed to be getting a ton of traffic. I decided to start one to capitalize on that but it failed and was retired. I was trying to monetize it in the same way.
AdWords to AdSense Arbitrage
I almost forgot about this short stint but in the mid 2000's people were making money from AdSense Arbitrage. What the hell is arbitrage? It's basically finding an imbalance in the market. Traders are familiar with the concept.
Basically someone figured out that you could buy cheap keywords on Google AdWords (the advertiser side of the platform) and then send that traffic to pages with links to higher paying Google AdSense (the content monetization side).
So what you would have is a bunch of people bidding on 1-5 cent keywords and sending you to a page where they hoped you click on some high paying ad for a lawyer or something. I never really got into this but I heard it worked for a little while.
Discovering Affiliate Marketing
Now that I saw it was possible to actually make some money online I started looking into it even more. What I found was that people seemed to be making a living with Affiliate Marketing. So I figured I should probably try that.
Affiliate marketing is when you are paid to promote other people's products and services. Sometimes you are paid a small percentage of sales commissions. Other times you are paid a certain amount per lead. It's still basically arbitrage but from paid traffic to affiliate ads.
There are a bunch of Cost Per Sale networks out there that many people are familiar with. These are networks that usually work with a lot of big brands and some smaller ones and generally they pay out on a percentage of a sale. A few that come to mind are Amazon Associates, Commission Junction (CJ), ShareASale, and LinkShare. The first real affiliate network I worked with was PepperJam (which was acquired by eBay I think).
On PepperJam I applied for a bunch of different campaigns and was accepted into a few. I started testing out these offers by buying ads on the MSN and Yahoo search ad networks at the time. These networks had less traffic so there was much less competition than you would run into at Google. Which means cheaper clicks for me.
On top of that they would give you crazy bonuses all the time. Things like "Sign up for a new account. Deposit $10 and we'll give you $100 in free advertising". I figured if I could test out these ads for free something might work. So I got as many Credit Cards as possible and made an account for each one. I got a few thousand dollars of free advertising credits.
Using those free funds and a pretty new designer fashion brand's affiliate program. I promoted their products and started seeing a good return on investment (ROI). Once something was profitable all I had to do was scale. All it took to scale at that time was more budget. All I needed for more budget was a higher credit limit. I pushed as much a I could and got my first $8,000 check. Then I kept promoting and earned another $20,000 in a matter of months.
My First Affiliate Marketing Failure.
Then disaster struck. I apparently was violating the terms of the affiliate agreement with my bidding strategies. It was basically a trademark issue in which I didn't know I was not supposed to be bidding on their trademarks and they added wording into the agreement after I started promoting the offer to disallow that. Of course they didn't tell me I was doing something wrong until after they got their $200k+ in sales and the time came to pay me my commission. I ended up in a conference call with the network in which they told me the advertiser refused to pay and that they weren't going to be able to pay me all of my commission. I think they paid out part of the $20k but not enough for me to turn a profit.
I severed ties with the network. I was one of their top affiliates at the time. They would contact me and try to get me back but I just couldn't risk putting that money on the line and not being paid.
The PepperJam network was started by Kris Jones who went on to sell the company and become very successful. I don't hold any of this against him but I wish I could have had a better relationship with that company. He seems like a pretty cool guy.
Moving on to CPA
Even after the upset of losing what was probably $12,000 (which is known as a "shit load of money" when you are in your early 20's) I didn't get discouraged. I had a taste of freedom and proved that this could actually work. I kept investigating the affiliate world and eventually found a forum called WickedFire.
WickedFire is kind of like the cesspool of affiliate marketing forums. I actually learned a lot by digging into old posts and lurking. The members were notorious for things like posting a link to a gif of swinging dicks when a noobie asked for help. It had/has a strange culture but at one point it was a good resource. They covered everything about Affiliate Marketing even the grey areas.
I think I found barman via wickedfire. His blog PPC.bz was hilariously inappropriate but covered all of the industry drama. As you can imagine an industry of people who post swinging dick gifs is full of drama. I still wonder if affiliate rapper dullspace ever got a record deal.
I followed some of the advice on WickedFire and ran some dating campaigns on Facebook. At the time Facebook traffic was very cheap and allowed for way better targeting than any other ad network. I made a few thousand dollars from dating offers and testing various other offers.
The problem with the forums were that if someone shared something that worked then everyone would try the same thing increasing the competition to where nobody could make much of a profit. This started leading to a community of secrecy and really killed the value of forums for me.
The biggest thing I got out of all this testing and income was that I would regularly charge thousands of dollars a month and then pay it off as soon as the bill came in. This allowed me to increase my credit limit significantly at an early age.
My First Big Campaign
As I got some experience behind me I started getting accepted into these smaller boutique style affiliate networks. A few of the ones that I know are still around today are A4D (previously Ads 4 Dough), Convert2Media (C2M), and Motive Interactive.
Jason Akatiff the owner of A4D is responsible for a lot of the things I learned at this phase.
At this time affiliate marketing was still a wild west type of industry. This was before the FTC started cracking down and weight loss products (like Acai Berry) were making a killing. So I decided to 'slang dem berriez' as wicked fire would say.
For some of these weight loss products I could earn $60 a sale. Much more than anything else I've ever promoted. I started out on my old traffic source and eventually Google Search. I made some money from Google Search but then my account was banned as Google started cracking down on these types of ads.
I knew these products were making a killing but I couldn't get traffic. Until I got an email from one of the network owners. I remember it being very short and saying something like "Hey MySpace is launching a self-serve ad platform tonight. You guys might want to check it out. " This was just before MySpace officially died and Facebook took over as the king.
I was working midnight shift but was off that night and visiting my then girlfriend at WVU (now she's my wife). I stayed up all night making various banner ads and submitting them to MyAds. I set the max budget of $10,000 per day because on most other sites I had a hard time hitting the budget anyway. I went to bed hoping to make $60 by the time I woke up.
I woke up and opened up my MyAds account. I guess there was some type of glitch where if you bid the maximum amount they delivered ads until you ran out of money. Holy fucking shit -$8,000. I literally hit my credit card limit in a few hours. My stomach sank. I was scared shitless. There was no way I would be able to pay that off.
I finally got myself together and logged into my affiliate account. $22,000 in commissions. I thought there was no way that could be right. After it sank in that it was right I needed to move quick to get the ads going again. I called the network and setup a wire transfer. Banks seem to think you are a drug dealer if you walk in with a 6 digit check for some reason. I then paid off my credit card and called all my credit card companies asking for a limit increase. This was before the credit crack down. I may have fibbed my income a little bit but I managed to get one of the cards to give me a $45,000 limit at 22-33 years old.
one ad was literally a killer whale and it said "don't be a whale use acai berry".
I scaled the campaign and probably made $60-80k in 2-3 months. Eventually I was contacted by the network owner saying my ads were not appropriate. Some of them were absolutely hilarious and I can't believe people clicked on them and bought the product. I mean one of them was literally a killer whale and it said "don't be a whale use acai berry".
I also learned what it felt like to write a 5 digit income tax check to uncle sam.
So I started making some more appropriate ads. Made a little bit more money but eventually competition picked up. I branched out to other types of ads like CPM (cost per 1000 impressions) that would show on news sites and things.
Being an Unknowing Participant in a Scam
These weight loss product become more and more popular and I see people making way more than I am (hundred of thousands to millions). I'm not going to pretend these product didn't feel scammy from the beginning but I wasn't award of how bad it was.
These products worked by having "free trials" that required a credit card. If I got someone to sign up for a free trial I'd get commission. Then the company would continue to bill these people $60-$100 a month for automatic refills of the product if they didn't cancel. At least that's what I thought. It turns out they literally wouldn't let people cancel. Some people got taken for hundreds of dollars. Some had to cancel their credit cards to get it to stop. Eventually some of the people behind these "diet companies" actually went to jail over it. I know some affiliates did too for promoting it.
Automating the Magic
Not that I'm proud of any of this but I started looking even deeper into the grey areas of affiliate marketing and SEO. I also wanted to automate this so I didn't have to spend so much time manually doing things.
I came up with an idea to automatically create websites and monetize them. There was a plugin out there that would work with WordPress and post links from eBay and Amazon and I would get the commission from sales. I also put AdSense on these sites for extra income.
I didn't know how to do this but I was working a midnight tech support job with a friend and we had a lot of free time. We started trying to figure it out. I came up with the idea and created a template WordPress site and had Mike Maguire figure out how to automate things.
The idea was pretty simple. I would research keywords that I thought had potential to make money via these ads. I'd add keywords and domain names I wanted. The tool would buy a domain name, setup hosting, install WordPress, install our template, change SEO settings based on keywords given, and then go out to the Amazon API to pull in products. It wold populate the WordPress database with products and descriptions from Amazon, with affiliate links to Amazon and Ebay, and schedule the posts to go out randomly over the next two years. We also had some internal linking setup between the sites to pass on some link juice and help rank in Google.
I found out a few things. I could buy .info domain names for 99 cents meaning I could make hundreds of sites for cheap. New domains seemed to get traffic in Google quickly and then drop off. Stronger .com and .net domains seemed to last longer but making money at this seemed to be a volume game and not a longevity one.
So our auto-poster created hundreds of sites. Some got no traffic but a few got a decent amounts of traffic. We targeted niches like "unlocked blackberry phones". It really only took a few sites making a little bit of money to bring in a decent income. I think we may have gotten up to $1200+ a month before things took a down turn.
SEO, Spam, and Regrets
During all this time I was interested in driving traffic to all my sites. I started looking into driving traffic to these sites and my other properties. At first I did your typical on page optimization and then moved into building backlinks manually. This is known as "white hat seo".
There is another side called "black hat seo" which is the things that are frowned upon. At the time people figured out different linking schemes that could drive ranking power back to a main site. These were called link farms. You could create a bunch of crappy sites with spun content (taking content and replacing words randomly so it seems unique to Google). So I built a link farm and started seeing my rankings increase.
Then I learned about a tool that was supposed to be built by some Russian hackers (or so I hear). This tool was powerful. It could blast out thousands of links per day. The tool is probably still active today and it's was called Xrumer. Xrumer would crawl the web for forums and blogs, create profiles with backlinks, write spammy comments, ask questions on forums and answer with your backlink from another account, etc.
It's all shady but it worked so I looked passed it. At one point I was spamming so many links from my house that Comcast would repeatedly call me telling me I "had a virus" on my computer. I was using 4TB of bandwidth each month.
Now that I look back I don't feel great about my time as a "link spammer". Fortunately for website owners Google basically fixed this exploit with their Penguin and Panda updates so it's really not effective anymore.
I apologize to all you forum owners for what I did in the past.
Membership Sites and Email Lists
I did attempt to make one product. I started a health recipe membership site. I figured people on Weight Watchers and other diets wanted some healthy options. I found a bunch of recipes and put them with some amazing pictures, so they would share well on pinterest. My target audience was mostly female and pinterest was becoming popular so I thought I might be able to game it.
In the early days of pinterest you could post affiliate links. All you had to have was some products people were interested in and you could make a few dollars from Amazon. Eventually pinterest shut this down and started redirecting affiliate links through their own affiliate id numbers so they would make the money. I don't know what they do today.
I had free recipes with an option to join a mailing list to get some "premium" recipes for free. People would sign up and go through the free recipe sequence which would eventually end and try to upsell them on a membership to the site.
I had a few signups at $7 a month I think. I had a few requests for refunds which I granted. I didn't see this working so I shut down the project. I think there are just too many free recipes available out there and/or I didn't market it to the right people.
I also started using mailing lists on Team Tutorials to drive some revenue by pushing WordPress plugins to my readers.
For the record email marketing is still the method that drive the most engagement.
Focusing on Affiliate Marketing Again
After my stint with shady SEO and automation I decided I wanted to get back into affiliate marketing but wanted to not feel like a douche bag for the products I promoted. Gaming was taking off and I felt like that was something that didn't really prey on people. I could promote games in good conscious.
I hooked up with a new account manager at one of those networks. I talked to him and he said they had this new game that was doing pretty good. I didn't really have any traffic sources so I started looking into new options. At this time StumbleUpon had launched their paid promotion.
Thanks to Ryan Berger from Motive Interactive for setting me up with this offer.
You could pay a few cents to have your page delivered via StumbleUpon's network. This worked out great for my game because StumbleUpon users were basically already bored and looking for something to do, which is why they were stumbling.
After a lull of not really making any money I found a winning campaign with a game on StumbleUpon. I made something like 150k in revenue over 3-4 months. I branched out into gaming networks like MochiMedia (no longer exists).
The thing about StumbleUpon traffic was that it seemed your ad could only be delivered to each user one time. So eventually you just ran out of traffic. Then they changed their pricing and terms. They really didn't want these types of ads on their network even though the users seemed to respond to them.
Once again I lost a traffic source and a significant source of income. I kept running on the gaming network which still made a few thousand a month but not nearly as much as I was making. Then that network went under and I was bringing in nothing again.
I'm not really active in the affiliate world anymore but mobile was the last big wave i heard of and I imagine it's still where the growth is. In general mobile is still growing so mobile advertising will grow with it.
The Downside of Becoming "Rich" Suddenly
We weren't really wealthy growing up. My dad didn't even have running water at one point when he grew up. He had an outhouse and a well that he had to go get water from. This wasn't even that long ago. Basically my family was "dirt floor poor" until my grandpa got a job at a steel mill (which he walked or thumbed a ride to until he could afford a car).
My mom and dad did the best they could but there were points in my early childhood but I know they struggled a bit at points. I remember coming home from school to see a couple hundred dollars of groceries left on our table and receiving a thanksgiving dinner box at school. They shielded it from me but eventually in high school we were pretty much a typical middle class family.
I worked at a grocery store for like $5.35 an hour through high school. Now all the sudden I had hundreds of thousands of dollars in revenue coming in. I didn't really know how to handle that.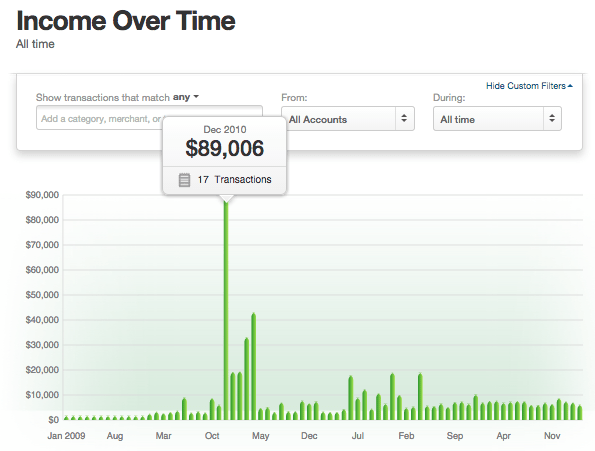 I always told my self I wanted to be rich before I was 24. That goal basically stemmed from some stupid song by Lil Flip. As dumb as that sounds I repeated that line in my head all the time and it became my goal. For a moment I actually thought I reached that goal. I had money right? Well I wasn't prepared for that money at a young age.
I'm thinkin' – designer clothes and fashion shows
I'm thinkin' – all my albums goin' platinum and gold
I'm thinkin' – Jaguars and a Bentley Rolls
I'm thinkin' – bein' rich before I'm 24
You'd be shocked at how much of my life I can relate to rap lyrics.
I ended up blowing most of it on cars, and vacations, and random shit. I flew my family out to Vegas so I could get married and then spent $1200 on Sky Vodka (the bottles that are $20 at the drug store) in some club. That was probably one experience that was worth the money. My entire family in the Pussy Cat Doll club (when it was in Planet Hollywood) having a blast. I have stories to tell for years about that night.
Shout out to Mike Kerry from C2M for putting up with being at the table next to us that night.
I was never rich as a kid and now I wanted to feel like I was. I was basically living a drug dealer's lifestyle. Blowing money fast. I got so used to charging $20,000+ per month and paying it off like it was nothing. When the money stopped coming in my spending habits didn't change. This is when having a $45k credit limit becomes a bad thing.
I don't really want to speak on this anymore but I'll just say this. I made some bad decisions and I learned some valuable life lessons about money and happiness. It would be very hard for me to make those same mistakes again. After having this kind of income I no longer believe that money doesn't buy happiness. It sure the hell made my life easier at the time.
For the future me. When you make some money think about investing it back into your business. Time will come when you can splurge on yourself but that's after you have built a solid foundation.
Failure and the View from Here
As you can see I had a pretty eventful couple of years. It was really a roller coaster of emotion. In the end I failed at all of these things but I've gained a wealth of knowledge. During this whole process I still had a day job. I almost quit to pursue my "business" full time but I never did. I have mixed emotions on that decision. In the end it seems like the right choice but now I wonder "what if I gave it my all?"
Now I work a consulting gig everyday that I really don't enjoy. The money is decent (I had months better than my yearly salary in the past). I get to work from home. I get to travel and see some cool places. I get to play with some of the hottest software right now but I'm still missing something. I've also been dealing with health problems over the last few years and severe depression. I basically haven't had motivation or even the energy to do anything aside from my day job for years now. I'm completely drained when I'm done working. Things that use to make me feel energized like lifting or running now make me feel even more tired.
Overall I realize my life is good relative to most people in the world but I am still not happy. Depression is a bitch.
So What's Next?
I tried a lot of things that really didn't lead to long term success. So what is my plan for the future? First of all my plan is to get healthy. I need to pull myself out of this depression. I need to drop some weight. I need to get back to the gym at least 4 days a week and add some running/cycling on the weekends.
As for business I think I want to create some kind of product. That's one of the areas I really haven't tried to fail at yet. I had that recipe site but it was poorly planned and doesn't count. I'm pretty sure that is one way I can help people while also making a little bit of money. I also believe products are the only true way to the type of freedom I would like to have in life. I would love to be able to travel with my wife while still making money or just taking a day off because I don't feel like doing a damn thing. That's the kind of freedom I think products can bring. There are some obstacles in my way but I'll post more on this subject in a follow up.