A lot of crypto newbies may not have a ton of liquid money to invest into crypto. In today's post, I'm going to talk about how to invest in crypto using a 401k or IRA. You can use these traditional investment funds to gain some exposure to the crypto market.
State of Retirement
Most people in the United State of America, and around the world, are investing in traditional retirement accounts like the 401k or IRA. Sadly, 25% of the US population has no retirement savings. If you are saving for your retirement using one of these accounts, pat yourself on the back. If you're not, it's never too late to start.
Many people want to get into crypto and don't realize that they might have access to the crypto market through their retirement accounts. Access to specific funds does vary based on your account. You will typically have more options in a private IRA than you have in a company-sponsored 401k. However, in some cases, you may have access to these crypto-related funds.
How to Invest in Crypto Using a 401k or IRA
As I said above, many 401k and IRA plans do give you exposure to funds that are related to the crypto market. I'm going to mention some specific funds that allow you to invest in crypto using a 401k or IRA. What you can do is change your retirement allocation into these funds that will grow (or possibly shrink) with the crypto market.
One thing to always remember is that the crypto market is highly volatile. So you need to decide if you think the market is going to grow in the long term before making your decision. As always, I recommend you do your own due diligence and I'm not giving any financial advice on where to invest your money.
Many of the funds I'm going to talk about are "investment vehicles" that bridge the world of stock/trusts/etfs and crypto. For a simple explanation, the funds purchase assets, like crypto or stock related to crypto or blockchain technology, and repackage it as a fund that you can trade.
Which Crypto Funds can I Invest in Using my 401k or IRA?
So which funds can you move your retirement allocation to? I'm going to name a few of the funds that I'm familiar with, but more and more are coming out so be sure to do some additional research to find the new funds.
There are a ton of different rules and you have exposure to different assets based on which plan you are invested in. So you may or may not see these funds available to trade in your account. However, I can confirm that most of the funds that I'm going to mention are available through an IRA, both Roth and traditional, with Vanguard. I've also tried to look for some of these funds in a Fidelity company-sponsored 401k plan and had no luck. So results will vary.
Bonus: Bitcoin IRA

As new investment options open up in the crypto space, some companies are being innovative. Bitcoin IRA is one of the innovative companies in this space. This service allows you to transfer a 401k or IRA into their possession and then trade crypto assets, like bitcoin directly.
It's simple to sign up, and you can create an account in as quick as 3 minutes. They offer a great mobile experience and that allows you to trade 24/7. Bitcoin IRA boasts that it has world-class security, $100 million in custody insurance, and uses US-Regulated partners.
In addition to exposing you to the crypto market directly, Bitcoin IRA offers interest-earning accounts where they pay interest on your assets up to 6% APY. That's additional money to the gains, or losses, you will see in the market.
This is a tax-advantaged account that currently allows you to invest in Bitcoin, Ethereum, Litecoin, Bitcoin Cash, Stellar Lumens, and Zcash. Plus you can buy actual physical gold through the service.
Sign up for Bitcoin IRA today!
Grayscale Bitcoin Trust (GBTC)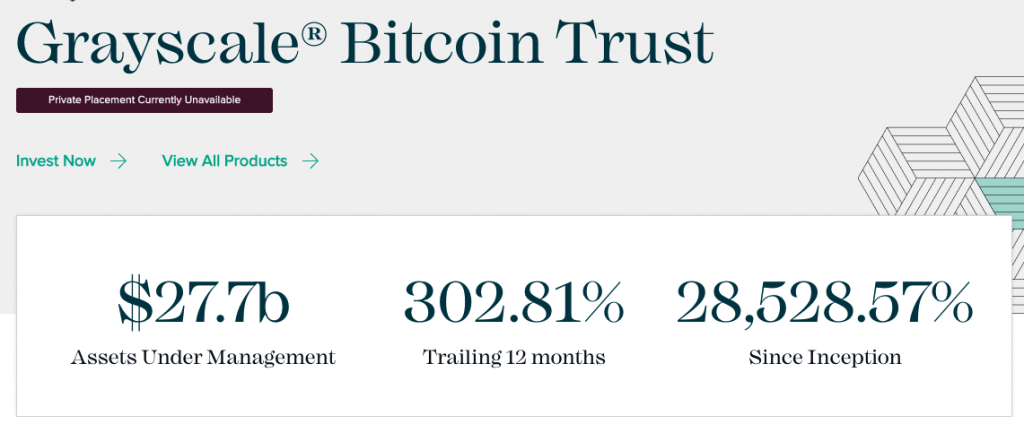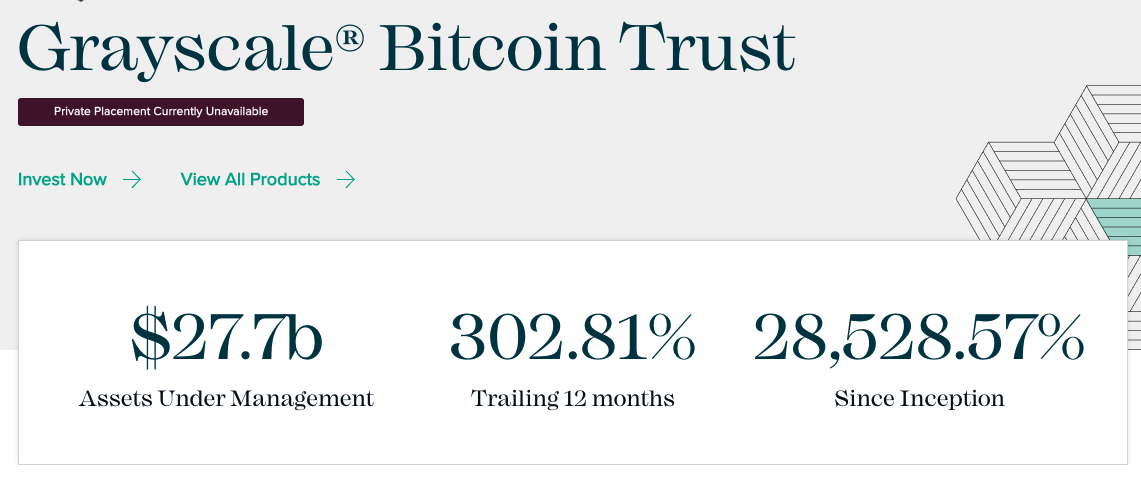 The Grayscale Bitcoin Trust (GBTC) is one option to invest in crypto using a 401k or IRA. The way the trust works is that Grayscale basically buys and holds a large amount of Bitcoin and then packages that up into a trust that investors can buy.
As you can see in the image above, they are currently holding about $27.7b in bitcoin in this fund. This next part is going to sound absolutely unbelievable but bears with me as this is absolutely true. Grayscale is regulated and audited so it would be highly illegal to fudge these numbers.
The Grayscale GBTC trust is up 28,528.57% since the inception of the fund, as of 9/26/2921. That is absolutely insane growth and I wouldn't be surprised if it was currently one of the best performing assets within the last decade. This is because GBTC is tied directly to Bitcoin, so its price has gone up with the hyperbolic growth of Bitcoin.
If you invested just $1k in GBTC at inception, it would be worth over $280k today
If you're bullish on the long-term growth of Bitcoin over the foreseeable future, then you may want to take a look at this fund to re-allocate some of your retirement assets.
If you're interested in investing in the Grayscale Bitcoin Trust then look for the ticker symbol GBTC in your 401k or IRA. The market price as of 9/26/2021 is $34.23. So you can gain exposure to Bitcoin in your IRA or 401k for as little as 35 bucks.
Note that if you go to the official Grayscale website it will say that the fund is not available, however, many investment institutions do still have access to it. 
Grayscale Ethereum Trust (ETHE)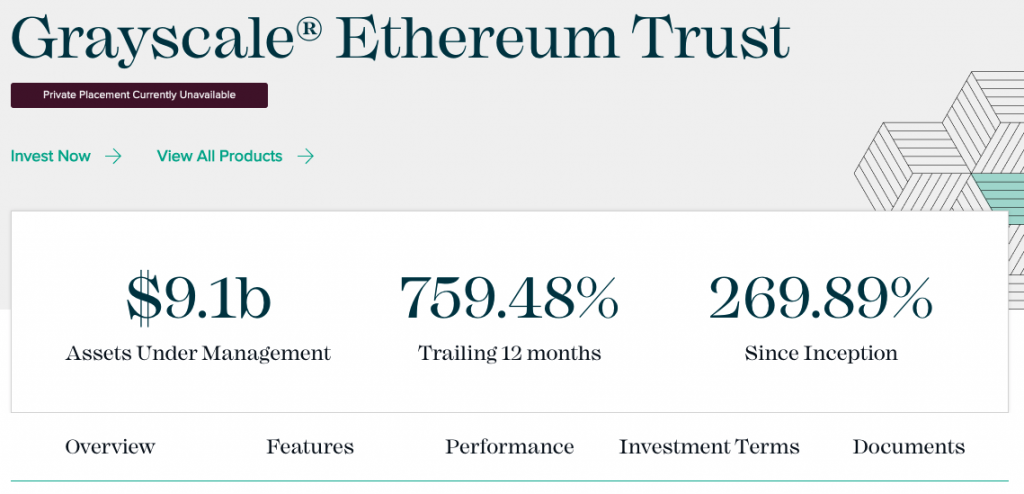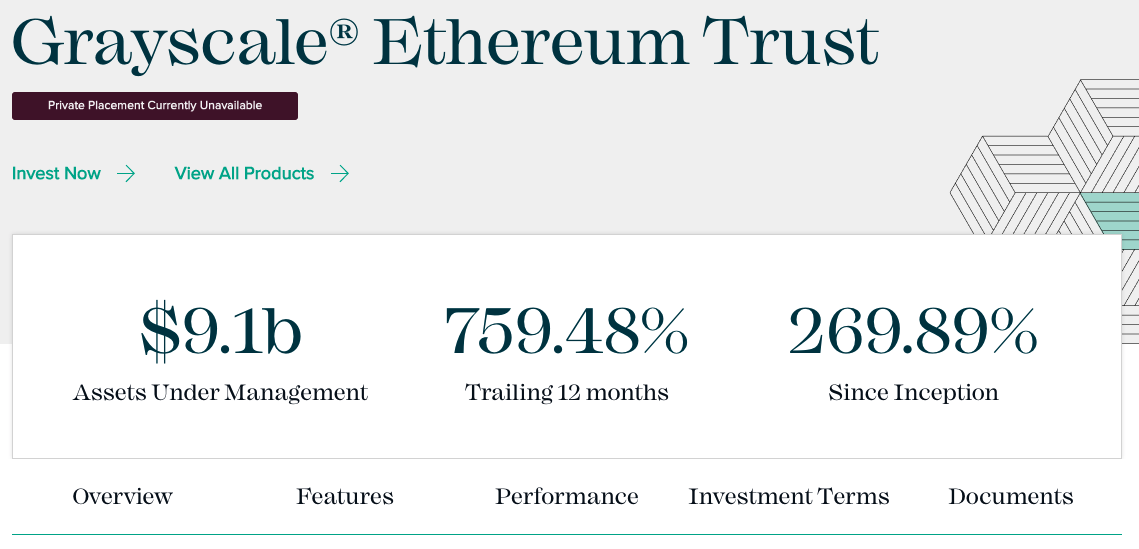 The next fund is another trust from Grayscale, they seem to have been earlier than other firms in recognizing the value in the crypto market and trying to bring it into traditional investments.
The Grayscale Ethereum Trust (ETHE) is another trust that buys Ethereum and holds it on behalf of the investors. It buys and holds Ethereum and allows investors to buy the fund for as low as $28.65 per share as of 9/26/2021.
As you can see, this fund has also seen tremendous growth. 269% gains are really good and the Ethereum ecosystem seems poised to grow in the long term, meaning this could increase a lot more.
For every $1,000 invested into the ETHE trust at inception, you would have over $3,600 today.
Grayscale is currently holding about $9.1b in Ethereum tokens in the Grayscale Ethereum Trust (ETHE).
With the community that has developed around Ethereum, especially in the NFT and DeFi space, I am pretty bullish on Ethereum in the long run. When ETH 2.0 launches it could be a real game-changer when it lowers the high fees associated with the current Ethereum network.
If you want to invest in crypto using a 401k or IRA then look for the ticker symbol ETHE in your portfolio.
Note that if you go to the official Grayscale website it will say that the fund is not available, however, many investment institutions do still have access to it. 
Siren Nasdaq NexGen Economy ETF (BLCN)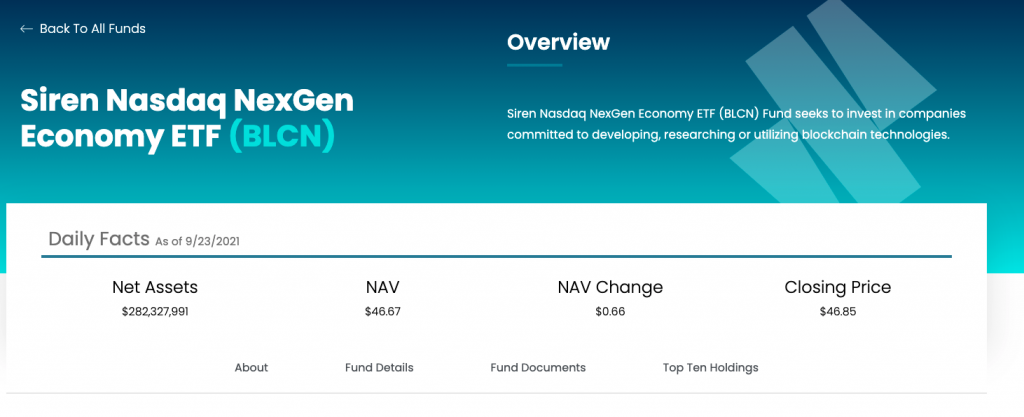 Yes, it's a mouth full, but this is an ETF that is focused on long-term growth and invests in companies related to the development of blockchain technology. If you're not familiar, blockchain is the core technology behind all the crypto technologies that we see today.
Since inception, BLCN is up 106.74% as of 9/26/2021. This is another great way to gain exposure to the core technology behind cryptos like Bitcoin and Ethereum without actually holding the coin. This also allows you to invest in crypto-related technology using a 401k or IRA.
Some of the holdings are crypto-related while others seem to be traditional financial institutes. My guess is that the fund manager thinks these traditional companies will eventually adopt blockchain technology and sees potential growth there.
For example, the fund holds Robinhood and Paypal. Both of which have the ability to purchase and hold crypto, but at the moment don't allow you to transfer crypto out of their wallets. Robinhood is actually developing this ability as I write this.
A couple of other holdings are Mastercard and Square. Both in the payment space and will probably adopt some type of blockchain technology in the future, possibly even allowing crypto transactions on their networks. Square does allow Bitcoin transactions.
The one company that has me a bit puzzled is the choice to invest in IBM. I used to work for IBM, so I may have some negative bias from my experience, but I don't see what they are doing to invest in blockchain technologies, but the analyst probably knows more than I do.
Look for the ticket symbol BLCN to invest in this blockchain-tracking ETF.
Amplify Transformational Data Sharing ETF (BLOK)


BLOK is another ETF in the crypto and blockchain space that invests in companies in these spaces. Some of the companies that these ETF funds invest in will end up overlapping as they are looking at companies in the same space.
For example, BLOK also holds Square and Paypal. They are invested in other areas of the market too like Nvidia, a company that makes Graphics Processing Units (GPU) that are using to mine Proof-of-Work cryptocurrencies like Bitcoin. As long as Bitcoin stays a Proof-of-Work token, video cards will continue to sell. However, Ethereum is switching to Proof-of-Stake, which will render a lot of this processing power less relevant.
Coinbase is another one of BLOK's investments and one of the leading crypto exchanges in the world (take a look at some of my favorite crypto exchanges here).  A company called Marathon Digital Holdings is also in this portfolio and they intend to build the largest Bitcoin mining operation in North America with the lowest energy cost per bitcoin.
BLOK also invests in at least two other mining-related companies, Hive Blockchain Technologies, and Argo Blockchain. It will be interesting to see how these investments grow with Bitcoin and other Proof-of-Work tokens.
BLOK also holds Microstrategy which is a company that provides business intelligence software but has been in the news a lot lately for its bullish stance on, and investment into, Bitcoin.
Look for the ticket symbol BLOK In your 401k or IRA.
First Trust Indxx Innovative Transaction & Process ETF (LEGR)

I'm sorry but I have to note the hilarious nature of the names of these ETFs. Anyway, the First Trust Indxx Innovative Transaction & Process ETF, which I will refer to by its ticker symbol LEGR, also invests in companies that can benefit from blockchain technologies.
If you look at the investments that LEGR holds, you'll see that many are simply technology and financial firms. My guess is that the fund managers think these companies will have decent growth as they adopt more blockchain technologies. In the long run, I think many industries will be impacted positively by the adoption of blockchain technology.
Some of the companies you may recognize in this portfolio are Salesforce, Samsung, NVidia, Amazon, Baidu, VMWare, Paypal, Goldman Sachs, and Walmart. Honestly, I don't see the draw of some of the companies in this fund, but if the managers are correct, this fund could grow at a good pace.
Look for the ticket LEGR in your 401k or IRA.
Capital Link NextGen Protocol ETF (KOIN)


KOIN, also known as the Capital Link NextGen Protocol ETF, is a fund that invests in innovations in the Fintech space. As of 9/23/2021, KOIN has $30b+ in net assets.
KOIN essentially targets two different areas, Digital Asset Providers, and Solution Providers. The Digital Asset providers are companies that use technology to enhance customer experience, increase financial operations, optomize settlements, increase security, and create digital assets. The Solution Providers are companies that assist financial organizations in the adoption of the latest financial technologies.
KOIN holds some of the companies that I discussed above along with some new ones. They have a few companies in the hardware space such as NVidia, Intel,  and Taiwan Semiconductor, which manufacture core components in the mining space.
Payment processors like Visa, Mastercard, and PayPal are also in this portfolio. These providers could see growth by adopting blockchain tech and enabling easy crypto payments.
A couple of the tech companies in the portfolio are Salesforce and Microsoft. To be honest, I'm not sure how these are related to the core mission of this ETF, but I do think these companies will grow in general.
Amazon is another holding in the tech and retail space. I actually see blockchain as a potential competitor for things like Amazon's AWS. However, Amazon could make waves by announcing that it will accept a cryptocurrency as payment in its consumer marketplace.
The one real question mark for me here is Nestle, a food and beverage company. I'm not sure what the fund managers see here as related to the fintech and blockchain space, but it would be really interesting to know.
Look for the ticket symbol KOIN to add this one to your portfolio
What Kind of Investment Account Should I Use to Buy Crypto Assets?
This is a decision you will have to decide for yourself after doing your own research. I can give my opinion on the topic though, but this isn't advice.
Many 401k plans, especially company-sponsored plans, will limit your exposure to the market. It's highly likely that you won't be able to find some or many of the ticker symbols that I mentioned in this post. So what can you do?
One option is to convert the 401k into an IRA, which typically has less restrictive rules on what you can invest into. There are positives and negatives to this that you will have to weigh. For example, you can take out a loan on a 401k that you can't do in an IRA. There are probably also tax implications that I can't even go into detail on. I highly suggest you research the pros and cons of something like this before making a decision.
If I were going to roll over a 401k into an IRA or open a new IRA account, would I open a traditional IRA or a Roth IRA? This one is a bit tricky. The simple explanation is that in a traditional IRA, the contributions are not taxed but the withdrawals are. With a Roth IRA, the contributions are taxed, but the funds can grow tax-free. This is a bit of a guess on where you think tax rates will be when you cash out and how much growth you think you will have.
I personally have both types of IRAs at the moment because I'm a bit indecisive. A majority of the funds I have allocated to these crypto-related funds in my retirement accounts are in a traditional IRA that was rolled over from a 401k. I have a small amount in a Roth IRA.
In the future, I think I would actually choose to go with a Roth IRA in this case because I see huge potential growth in the crypto market by the time I retire and it sounds like a solid bet to me that tax rates may be even higher at the time I start taking withdrawals.
You can Invest in Crypto Using a 401k or IRA Today
As you can see, I just touched on a few options of allocating your retirement savings into investment vehicles related to the crypto and blockchain space. This space is likely to continue to grow and new investment options will surely be added. As with all investments, do your own research, or consult with a financial advisor before making decisions.
However, if you're looking for a way to invest in crypto using a 401k or Roth IRA then check out the symbols GBTC, ETHE, BLCN, BLOK, LEGR, and KOIN.
Also, if you hold crypto already, take a look at some of the options to earn interest on your crypto.
Full disclosure. At the moment of writing this post, I hold all of the ticker symbols discussed in this post.